Capture 3D Services for 3D Scanning, Inspection, Reverse Engineering, and Photogrammetry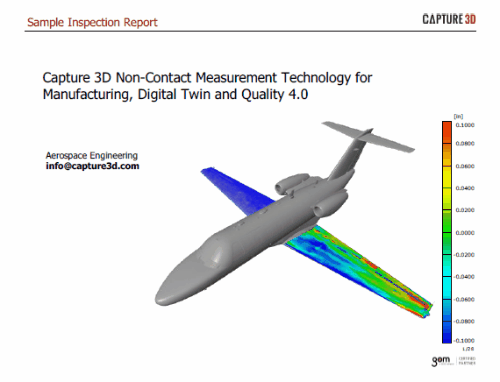 If you would like services or a proof of concept (POC) to benchmark our latest technology on your actual part/tooling, please contact us with your project specifications and requirements. We offer in-house and on-site services to help demonstrate our solutions and capabilities.
Please contact us for a quotation, or email .
Inspection
Dimensional Layout
Reverse Engineering
CAD Modeling
Capture 3D Locations
Capture 3D, Inc.
3207 S. Shannon Street
Santa Ana, CA 92704
T: (714) 546-7278
Capture 3D, Inc.
58-B Connecticut Avenue
South Windsor, CT 06074
T: (860) 640-0661
Capture 3D, Inc.
23070 Commerce Drive
Farmington Hills, MI 48335
T: (248) 426-9001
Capture 3D, Inc.
11034 Bailey Road
Cornelius, NC 28031
T: (980) 888-1050
Capture 3D, Inc.
1065 12th Ave NW
Suite E6
Issaquah, WA 98027
T: (206) 317-7778
Additionally, there are Capture 3D customers utilizing ATOS 3D scanners and/or TRITOP photogrammetry solutions that offer services.
Services Partners
USA
ALABAMA
Shape Fidelity
1305 Fletcher Street Northwest
Huntsville, AL 35801
CALIFORNIA
Blupoint Scan
PO Box 462
Del Mar, CA 92014
Scansite 3D
15 Woodland Avenue, Suite B
San Rafael, CA 94901
FLORIDA
Atlantic Precision
600 N.W. Peacock Blvd., Suite #12
Port St. Lucie, FL 34986
Eastern Technical Services (ETS)
3321 SE Gran Park Way
Stuart, Florida, 34997
Sintavia, LLC
6545 Nova Drive, Suite 207
Davie, FL 33317
INDIANA
J&L Dimensional Services, Inc.
16 Industrial Parkway
La Porte, IN 46350
T: (888) 325-3588

www.j-ldimensional.com
Vantage Point Technologies LLC
15120 Champion Circle
Carmel, IN 46033
KENTUCKY
Phoenix Products, Inc.
106 Bethford Road
Mc Kee, KY 40447
MICHIGAN
Advanced Vehicle Engineering
302 S Leroy St
Fenton, MI 48430
Dynamic Metrology Services
2565 Van Ommen Drive
Holland, MI 49424
JTL America
39111 W. 6 Mile Rd
Suite 126
Livonia, MI 48152
T: (260) 489-1444

https://jtlamerica.com
Superior Cam, Inc.
31240 Stephenson Highway
Madison Heights, MI 48071
Ultimate Hydroforming, Inc.
42450 Yearego Drive
Sterling Heights, MI 48314-3262
NEW JERSEY
H&W Tool Company, Inc.
22 Lee Ave.
Dover, NJ 07801
OHIO
Mold Masters International
7500 Clover Ave.
Mentor, OH 44060
OREGON
Axiom Custom Products Inc.
2424 NE Riverside Way
Portland, OR 97211
TEXAS
Digital Reality
100 E NASA Pkwy, Suite 403
Webster, TX 77598
Intertek
6441 Space Center Blvd., Suite D-100
Houston, TX 77058
T: (281) 990-9977

http://www.intertek.com/industrial/3d-metrology-services/
UTAH
Meshwerks
10801 S. Country Creek Drive
South Jordan, UT 84095
CANADA
ONTARIO
Sammer Technologies
250 Shields Crt., Unit 14
Markham, Ontario, Canada L3R 9W7