ATOS Q | Accurate 3D Scanner
Thanks for choosing the ATOS Q ebrochure!
Please check your inbox or click here for immediate access.

Have you seen our ATOS Q digital launch event? If not, watch the replay here.
If you have any questions, please do not hesitate to reach out to us. We'd love to discuss your application or provide a complimentary proof of concept virtually or in-person. You can schedule time with our here!
Have a great day,
Your Capture 3D Team


Accurate 3D scanner with blue LED technology
Fast ATOS Triple Scan functionality
High-definition, accurate, compact, and reliable
| | |
| --- | --- |
| | |
| Designed for industrial use, the ATOS Q is engineered with 8 million or 12 million points per scan (PPS), a bright Blue LED Light Equalizer, and Triple Scan technology, reducing the number of individual scans needed and accelerating measurement time, even on complex parts. It also features a fiber-optic connection to enable rapid data transmission, an intelligent self-monitoring calibration system, and active temperature management. | The ATOS Q captures millions of accurate points through quick scans, generating anaccurate digital twin of parts, components, assemblies, tooling, and molds. Its sleek, compact design makes it an ideal engineering solution for dimensional inspection, reverse engineering, rapid prototyping, CFD/FEA analysis, digital assembly, and other manufacturing processes. |
ATOS Q DNA


Complete with features curated to satisfy the increasing demand for accurate metrology-grade 3D scanning solutions,the ATOS Q provides high-precision measurement results with the unmatched quality you expect from an ATOS.
ATOS design

ATOS Q is specifically developed for industrial use and delivers accurate and repeatable measurement results—even under harsh conditions. The components and electronics of this robust optical 3D sensor are dustproof and splashproof, making all ATOS Q sensors ideally suited for both the measuring lab and the shop floor.

ATOS technology

ATOS Q draws upon proven ATOS technology, including the Triple Scan Principle, the Blue Light Equalizer,

and

active temperature management.

The Blue Light Equalizer increases the brightness of the light source generating a brighter uniform, speckle-free light. Since you can practically scan anywhere with the ATOS Q, the active temperature managements helps monitor conditions.

ATOS performance

ATOS Q features

high-speed fringe projection

to

f

ast data processing

and h

igh data throughput

,

ATOS Q is i

deal for all

industries

with measurement needs during

 product development, quality control, near-line and in-line production

,

and beyond.

Versatility makes the ATOS Q an ideal

engineering solution.

Blue Light LED Equalizer Technology


Increases the brightness of the light source generating a brighter uniform, speckle-free light. Precise fringe patterns are projected onto the surface of the object and are captured by two cameras based on the stereo camera principle. GOM's projection technology works with narrow-band blue light, which means that interfering ambient light can be filtered out during image acquisition.This fringe projection technique enables the fast collection of precise data.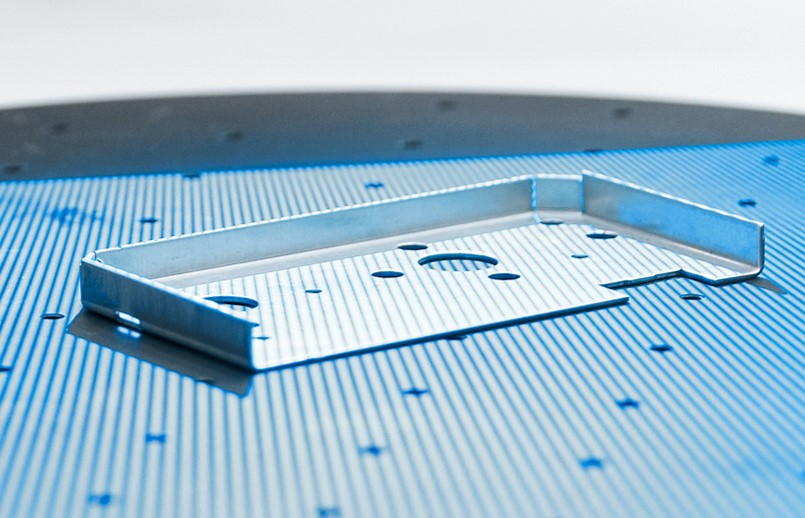 Versatile – ATOS Q rises to the challenge


The system can be configured with a tripod, industrial camera stand, desktop stand, or fully automated with the ScanBox 4105. It is also easily integrated with rotation tables or the tilt and swivel for semi-automated applications. Like all other ATOS 3D scanners, this solution meets high metrological requirements and is supported by the latest software GOM Inspect Suite.
Manual
With a weight of only 4 kg and its compact design, ATOS Q is light and can be easily moved. It can be used on a tripod or a desktop stand in the measuring room but also mobile in production with various industrial camera stand options.
Semi-automated
Configuration versatility allows ATOS Q to be integrated with rotary stages, like the GOM USB Rot 350 (pictured), or with the Tilt and Swivel desktop semi-automated solution to offer robotic axis movement.
Automated
High throughput and productivity. ATOS Q can by automated with ScanBox 4105. Easy to use with the Virtual Measuring Room software for offline and online automated programming by importing CAD.
One series, two versions


ATOS Q is available in the 12M and 8M versions. The sensors capture up to 2 × 12 million or 2 × 8 million coordinate points per scan. It has five different, interchangeable measuring volumes from 100 x 70 mm2 to 500 x 370 mm2.
| | | |
| --- | --- | --- |
| | ATOS Q 8M | ATOS Q 12M |
| | | |
| Light source | LED | LED |
| Points per scan | 8 million | 12 million |
| Measuring area [mm²] | 100 × 70 – 500 × 370 | 100 × 70 – 500 × 370 |
| Point distance [mm] | 0.04 – 0.15 | 0.03 – 0.12 |
| Working distance [mm] | 490 | 490 |
| Weight | approx. 4 kg | approx. 4 kg |
| Dimensions | approx. 340 mm x 240 mm x 83 mm | approx. 340 mm x 240 mm x 83 mm |
| Cable length | 10 m fiber optic cable | 10 m fiber optic cable |
| Operating system | Windows 10 | Windows 10 |
| Measuring volumes | 100, 170, 270, 350, 500 | 100, 170, 270, 350, 500 |